ASSOCIATES PAGE
Associate members are always welcome at the club. We invite you to join us in our interesting programme of talks and our other events.
As you know, Cavaliers only attend our regular club evenings, but you are welcome to come along to see and listen to one of our many presentations, or even 'BORROW' a Cavalier for the evening to participate in the activities!
Being an Associate member also means you can take part in our excellent dog training classes. If you would like to join us, please complete a Membership Application Form which you can download here.
We would like to use this page to show off here anything your dogs may have achieved recently, so if you have any news or pictures please send them to the Webmaster.
Your Programme:
Watch this page and the programme page for other events
Some recent achievements by our associates:
Tracey Masters and Freddy - Agility success!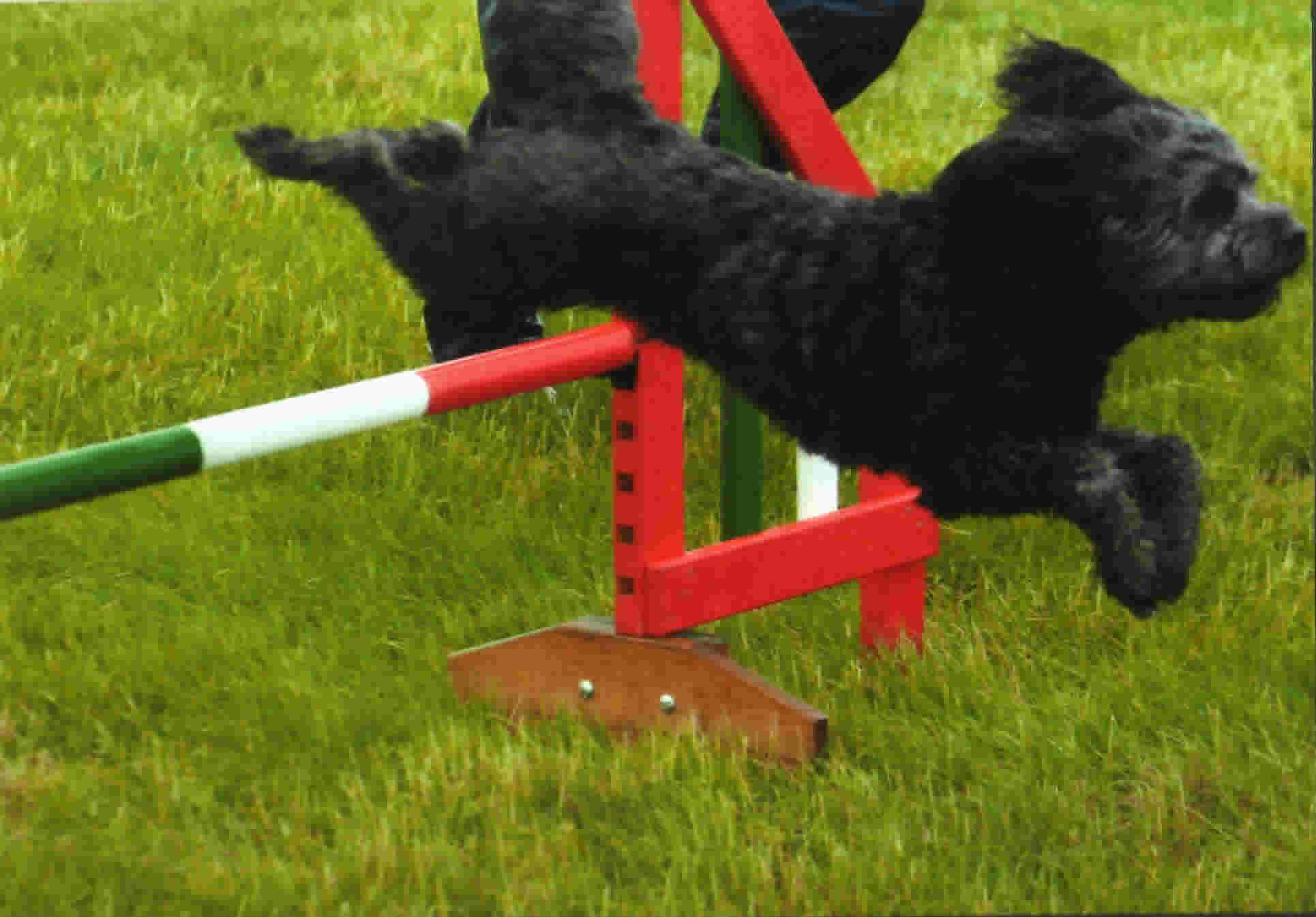 Tracey writes ....
Freddy is my 3 year old Cavalier/Poodle (Cavapoo). I got him with agility in mind and as you can see he loves it. Since September 2011 he has won 18 trophies and has qualified for the starter's final in July. He has now progressed to Grade 3. Freddy has also passed his Kennel Club Good Citizen Silver level. He is very loving but very sensitive and a true companion.
Tracey and Freddy - 2nd in the Kennel Club Medium Agility Novice Cup (Jumping) Crufts 2014
More success for Elaine Ward and her Poodle Pippa....
At SWECA 16th June 2012 Best Puppy & Utility Puppy Group 1
At the Windsor Champ Show, 1st July 2012 3rd Puppy Bitch
At the East of England Champ Show 2nd Puppy Bitch
At the Trent to Tweed Poodle Club Champ Show 1st Junior Bitch
At the Paignton Champ Show, 7th Aug 2012 2nd Junior Bitch
At the Bournemouth Champ Show, 11th Aug 2012 2nd Junior Bitch
Southern Counties Canine Society June 2013(no CCs on offer) BOB - judge Pam Wilson
East of England Champ Show July 2013 1st Post Graduate Bitch - Judge Jane Lilley
Northumbria Poodle Club Champ Show Aug 2013 1st Post Grad Bitch - Judge Angela Matthews
Miniature Poodle Club Open Show 1st Post Grad Bitch - Judge Lucy Williams
International Poodle Club Open Show October 2013 Best in Show - Judges Karen Laws and Lorna Thomas
The Poodle Club Champ Show January 2014 2nd Limit Bitch - Judge Linda Barker
Midland Counties Poodle Club Champ Show February 2014 3rd Limit Bitch - Judge Sue Holmes